WHY VEHICLE WRAPS FAIL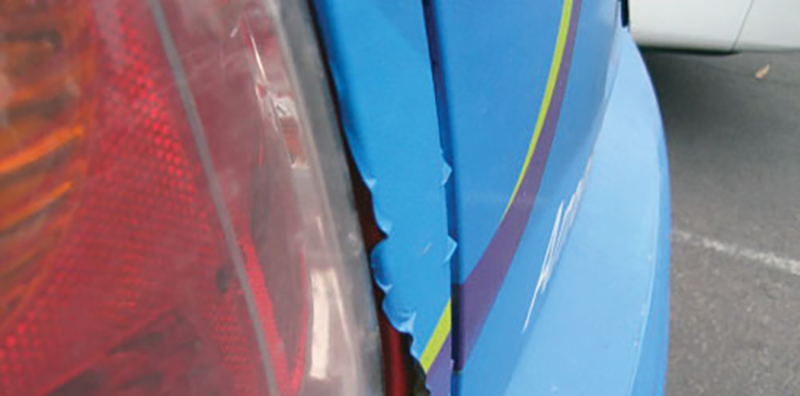 The 4 Top Reasons Vehicle Wraps Fail
1. Wrong Vinyl
Vehicle wrap vinyls are not created equal. They vary in quality and cost. Plus specific vinyls are best for specific applications. Choosing the wrong vinyl can result in poor adhesion to the vehicle surface causing bubbling or wrinkling. These problems can distort the graphics and the color. So it's critical to select the right vinyl for your vehicle. Click to see our recommendations for The Right Vinyl for the Job.
2. Inadequate Pre-Installation Cleaning
To prepare a vehicle for wrapping, every bit of dirt and oil must be removed from the vehicle's surface. Even the smallest particle of dirt, and even dust, will show through the graphic installation. It also prevents proper bonding of the vinyl's adhesive. A drop of oil or silicon can also cause poor adhesion and bubbling of the wrap vinyl. IDEA! uses products and cleaning techniques to clean every nook and cranny of the surface being wrapped. And your vehicle will stay clean during the entire wrap process as our vehicle wrapping center is an environmentally-controlled, dust-free space.
3. Over-Stretching Vehicle Wrap Vinyl
There's a balance that must be struck when determining how much vinyl to order for a wrap. If too much is ordered, money is wasted. If not enough is ordered, some installers will over-stretch the vinyl. When this happens a whitening of the wrap vinyl can be observed. IDEA! has years of experience in ordering and installing vinyl and getting that balance just right.
4. NOT Post-Heating after Installation
As a type of PVC, vehicle wrap vinyl has a "memory" to conform back to its original shape. If post application heating is not applied, lifting of vinyl from the vehicle surface at an edge or in a recessed area may occur. When post-heating is applied to these areas to specific temperatures, the vinyl loses its original memory and sets the adhesive layer to stay in place.
Wrapping It Up
There are, of course, other potential reasons for vehicle wrap application failure. So its key to choose a vehicle wrap installer that is experienced and knowledgeable about why vinyls fail, is certified by multiple vinyl manufacturers, and will be there for you should a problem occur.
IDEA! PRINTING & GRAPHICS WARRANTIES ITS VEHICLE WRAP INSTALLATIONS FOR ONE YEAR FROM DATE OF WRAP COMPLETION. IF ANY ISSUE ARISES, BRING IT IN AND WE WILL FIX IT!