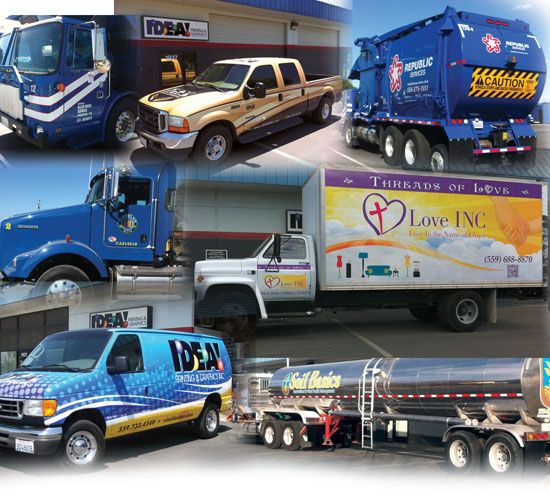 Please scroll below to request a Vehicle Wrap Estimate.
Idea Printing & Graphics Inc can assist you in creating a vehicle wrap to advertise your business and create brand awareness. We have a team of experienced, and Avery certified professional Wrap Installers that can design, print, and install your vehicle graphics in an efficient and professional manner with industry trained and Certified installers.
Vehicle graphics are highly effective for:
• New Businesses
• Creating Brand Awareness
• Tradeshows
• Promotions
• Events
• Product Launches
Depending on how much travel your company vehicle does in a day, and the area you live in, you can expect to get 5000 to 30000 looks per day. This medium of advertisement is not only effective, it is often easier to justify than many other marketing choices.
Let Idea Printing & Graphics Inc create a moving billboard, advertising your business or service. Vehicle wraps are one of the most effective ways to get noticed on a large scale. Cover your car, van, truck, trailer, or even your boats, RV's, motorcycles, and recreational vehicles with custom vinyl, designed to meet your specific advertising or personalization needs. Get noticed while driving, or even while you simply park!
Why paint it?
Market It!
Personalize It!
Protect It!
Transform It!
Wrap It!
Let your imagination run wild. With the new technology in wrap films today the possibilities are endless for all the items and surfaces that Cast Vinyl Wrap materials can be applied to. A short list includes......
• Vehicle Wraps
• Fleet Decals
• Window Graphics (See Through)
• Custom Designs
• Helmets
• Tanks of all Kinds
• Tractor Trailer Rigs
• Buses
• Recreational Vehicles
• Boats
• Store Fronts
• Windows
• POP Retail Displays
• Wall Murals
A Study on the Effectiveness of Vehicle Wraps
The industry norm is to estimate fleet advertising impressions by calculating the number of miles driven per truck per day by the type of road.
Imagine adding demographics as a dimension. What do you get? Vastly improved measurement capabilities, proof of performance and the ability to target your campaign.
The Study measured the advertising effectiveness of fleet graphics for a corporate distributor using GPS units to track 10 of its delivery trucks through two major metropolitan areas.
The three-month study correlated truck routes against zip codes and demographic data to deliver the most accurate measurements of message effectiveness, to date.
Advertising Medium Cost per thousand (CPM)* Cost of Equivalent DEC
Television $23.70 $1,445,700
Magazine $21.46 $1,309,060
Newspaper $19.70 $1,201,700
Prime-time television $18.15 $1,107,150
Radio $7.75 $472,750
Outdoor $3.56 $217,160
Fleet graphics
(Average, annualized)** $0.48 $30,000
*Based on 61 million Prime DEC annually; average of top 40 media market from Media Buyers Guide.
**Based on cost of test trucks.
Key Findings:
Fleet graphics generate a large number of impressions--in this study, an average of 6 million Prime Daily Effective Circulation (DEC) per truck, annualized.
Mobile media advertising offers the lowest cost-per-impression of any major advertising medium.
Routes and messages can be optimized to target specific demographic groups.
Fleet graphics add a valuable dimension to the advertising marketing mix.
Give us a call for a free consultation and quote on your next wrap project, or fill out the form below and we will process your request and get right back to you.