THE RIGHT VINYL FOR THE WRAP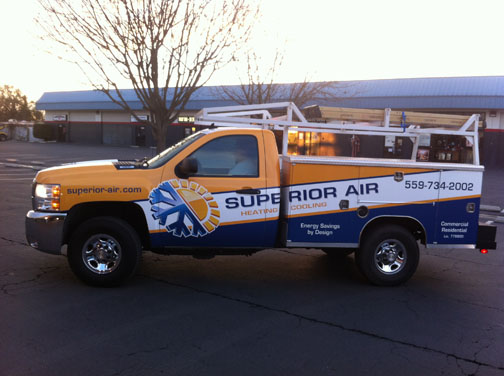 Superior Air Utility Bed Full Wrap
Yes, the material is an extremely important part of a great wrap but even the best materials in the hands of a non-certified, inexperienced installer won't last.
Please call us at 559-733-4149 or email us at orders@visaliaidea.com and we will be more than happy to answer any questions you may have.
When it comes to Car Wraps and Vehicle Graphics there are many manufacturers to choose from. However, the top four key players in this segment are:
Usually the decision as to which wrap vinyl film to use is made by the wrap shop and the installer. Clients also may request a specific brand to be used on their project.
At IDEA! Printing & Graphics Inc. we use both Avery & 3M as well as others:
For all of our print media we use the Avery MPI1005 EZ RS. As an Avery Dennison Certified Installer we believe that the Avery MPI 1005 EZ RS is the best film for car wraps. The only other film in the industry that performs similar to this product is by 3M, but it costs much more $$$ for a vinyl and laminate kit making it much more expensive for most projects.
Many shops will tell you that they use 3M or other manufacturers; however the key question is which film from that particular manufacturer is being used? All manufacturers including 3M have films that cost $250 per roll to over $1000 per roll, so simply by saying that they use a certain brand name doesn't mean they are using the right film for your project.
THE RIGHT VINYL FOR VEHICLE WRAPS