Fuji Dart 4300E Plate setter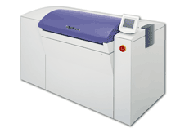 CTP (Computer To Plate) solutions that are unbeatable for their quality, accuracy, and reliability. They consistently output plates with a dot sharpness and registration accuracy that enable superior process control and fast makeready times. They also offer the benefits of easy daylight handling and exceptional production efficiency for both short and long runs.
The Dart 4300E is specifically designed to provide optimal versatility in plate production for 4-page and 2-page presses. The Dart 4300E is a high-speed model that can comfortably and consistently output up to 11 plates per hour.